SNAP stock should hit the market in March following the most anticipated IPO of 2017.
However, retail investors can't buy Snap Inc. (NYSE: SNAP) stock at the IPO offering price and make the same kind of profits as big banks and large institutions…
You see, big banks and large institutions are offered stock in a company before it's available to the public. And the shares bought are normally at a discount compared to what the public will pay on the IPO date.
For example, GoPro Inc. (Nasdaq: GPRO) priced its IPO offering at $24 per share. But the average investor had to pay $28.65 when GPRO stock opened to the public on June 26, 2014. Retail investors were already buying in at a 19% premium.
The GPRO stock price closed at $31.34 on June 26, which means big banks and large institutions made a profit of 30.58% just because they were allowed to purchase GoPro stock early.
Fitbit Inc. (NYSE: FIT) is another example of insiders making double-digit returns from an IPO. Fitbit's IPO offering price was $20 per share. But on the June 18, 2015, IPO date, shares opened to retail investors at $30.40.
That means in a matter of minutes, wealthy insiders made a 52% profit.
Trending Story: Virtual Reality Stocks: A Beginner's Guide to This $33.9 Billion Market
And aside from the wealthy insiders making all the money, there's one big reason SNAP stock is a risky investment…
Snap Inc. (NYSE: SNAP) Still Loses Money
One of the biggest reasons investors are excited to invest in Snapchat stock is the company's rapidly increasing revenue. However, the company is still not making a profit.
Snapchat generated $58 million in revenue in 2015, which climbed to $404.5 million in 2016. That's an increase of more than 597% in just one year.
And by 2018, Snapchat is projected to generate close to $2 billion.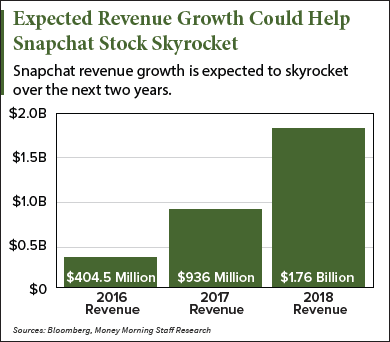 However, revenue isn't the only thing to look at here…
Snapchat lost $372.8 million in 2015 and $514.6 million in 2016.
And in the IPO filings, Snap Inc. said it may never be profitable.
That's why SNAP stock should not be considered a short-term investment.
And if you understand the risks of investing in SNAP on the Snapchat IPO date, here's how you can minimize your losses and maximize your profits…
How to Invest in SNAP Stock
As we mentioned, retail investors are never the ones who profit the most from IPOs.
"I generally tell retail investors to avoid buying an IPO at the open because the insiders have already made all the money available at the debut," said Money Morning Director of Tech & Venture Capital Research Michael A. Robinson.
But if you consider SNAP stock a good long-term investment, Robinson has a strategy to maximize your gains and minimize your losses.
"My exception to this rule is to put in a limit order that is fairly tight from the offering price. Otherwise the risk is you buy at the top and then go upside down. That's a big risk to carry with a new issue that hasn't hit the lock-up date," Robinson said.
And even though investing in the Snapchat IPO may not be profitable for most investors initially, he's still hoping Snapchat has a successful offering.
"I'm hoping to see a very successful IPO since Snap Inc. is a high-profile unicorn with a pre-market valuation of $17.8 billion at its last round. So, if reports of a $25 billion valuation at the open are true, that's great for the entire tech industry, the IPO market, and the overall value of the social networking market," Robinson told me.